Determining your needs vs. wants
You just decided to purchase a home. Congratulations on making this decision! Now you must determine which features you need or want in your new home. What items must you have in your house that you can't live without? There are only so many homes on the market in a given price range and in a given location. That being said, it is imperative you know your needs because adding too many wants can severely limit the market or end up costing more than you can comfortably afford. Some items on the want list, like an in-ground pool, can be added after you purchase the property. So, just how do you determine your needs vs. wants?
Knowing your budget is huge. It determines what you can get for your money. Where you want to live is equally important. Some cities are generally more expensive to live in. A $150,000 home in Angola, NY is going to be different from a $150,000 home in the Elmwood Village, for example.
Knowing if you really need a key feature can save you thousands of dollars. Determining if you really need it can be accomplished by asking some very important questions. Like, do you really need a 4th bedroom or will a finished basement suffice? How do you plan on using an extra bedroom; is it going to be a kids' playroom or an office? Or, maybe you decide you really need a huge backyard. What quantifies a huge backyard? Is a quarter acre enough land or do you mean 5 acres of land? It might be next to impossible to find that amount of acreage in Cheektowaga, NY, especially for a decent asking price.
To help differentiate between your needs and wants, I would recommend creating a chart of all interior and exterior items you would like. Next, order the items from the most important to the least important. Number 1 will be the most important. If 2 or more people are buying the home, all decision makers should independently fill this chart out and then compare lists. All low numbers should be on the needs list.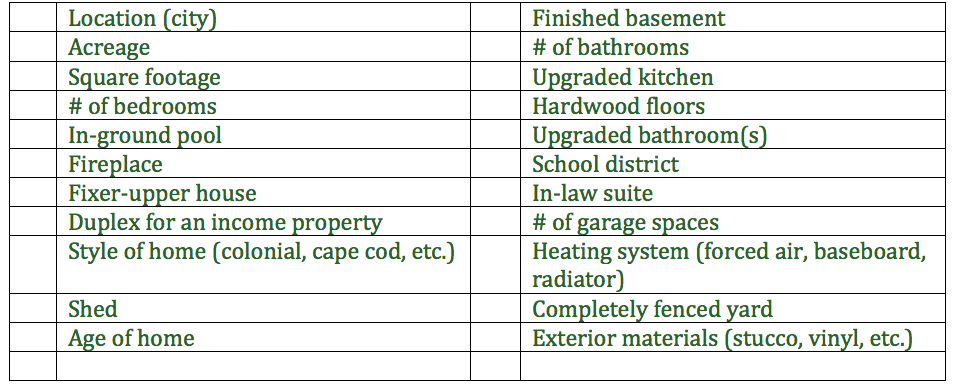 Now that you have your needs list a Realtor can help you find your home sweet home!
https://blakerealtygroup.com/wp-content/uploads/2018/08/blake-logo-white.png
0
0
innovationsahead.com
https://blakerealtygroup.com/wp-content/uploads/2018/08/blake-logo-white.png
innovationsahead.com
2015-12-10 20:02:04
2018-09-04 13:01:10
Determining your needs vs. wants